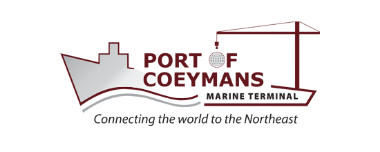 Tappan Zee Bridge Project
Port of Coeymans, Coeymans, New York
In 2014, the Port was awarded contracts for the New NY Bridge through Tappan Zee Constructors (TZC) for property leasing, steel fabrication, mechanicals, and stevedoring contracts for precast work. These contracts have created upwards of 200 new jobs.
The Bridge is a $3.4 billion project that requires an investment of millions of dollars to support the overall construction of the structure. As a result, TZC has permitted and will be constructing $3 to $5 million worth of heavy bridge building infrastructure at the Port. As a condition of the DEC permit issued to TZC and the Port, at the end of the New NY Bridge project, TCZ must remove the infrastructure improvements. The Port is working to have the improvements permitted as permanent and be allowed to take ownership of the improvements at the end of the New NY Bridge project to allow future bridge projects in New York State and the East Coast to be built and shipped at the Port.
Tappan Zee Constructors, working with their subcontractors to construct the New NY Bridge, understand the cost savings and schedule advantages to using the Port to assemble more than 200 sections of steel and place utilities. The Port is the primary point for barge shipments of 7,000 pieces of pre-cast concrete to the New NY Bridge.
In 2012, Governor Cuomo announced accelerated road and bridge projects in New York City and the Finger Lakes as part of the NY Works Program. Keeping these road and bridge projects here in New York, specifically upstate, greatly revitalizes our local and state economies. The Port of Coeymans has proven to be the ideal site for these types of projects and by utilizing the Hudson River, truck traffic is greatly reduced on our highways. In addition to using less fossil fuel and causing less erosion of road systems, barging bridge components is more cost effective. Contractors can manufacture larger pieces for transport by barge than could be transported by truck, and assembly can occur on site, so pieces only have to be moved once.
PSEG H.R.S.G. Construction/Mobilization
Port of Coeymans, Coeymans, New York
PSEG awarded Durr Megrant JV the project to manufacture and install a 130-foot-tall Heat Recovery Steam Generator weighing 8 million pounds at its Sewaren facility in New Jersey. This project was the first of its size and kind in the United States to be built offsite and delivered via barge in order to facilitate significant cost-saving and land usage.
The construction and assembly of this HRSG were all done on site at the Port of Coeymans and its mobilization through New York's waterways was executed by Coeymans Marine Towing.
The success of this project and the critical and efficient services provided by the Port of Coeymans has led to a second H.R.S.G. unit currently being constructed by Frank Lill and Son at our facilities in the same exact manner. The project was delivered to PSEG's facility in Bridgeport, CT in 2018.
Lafarge Break Bulk
Port of Coeymans, Coeymans, New York
Working for Lafarge North America, the largest diversified supplier of construction materials in the United States and Canada, the Port of Coeymans executed the unloading of 7,900 cubic meters of break bulk consisting of items with weights up to 160 ton. The project of more than 80 heavy picks, weighing approximately 60 tons each, had seven days scheduled from start to completion. The Port was able to fully execute the off-loading process in a shortened time frame of four days. This project has been repeated 7 times for this project for a total of 57,000 CBM.