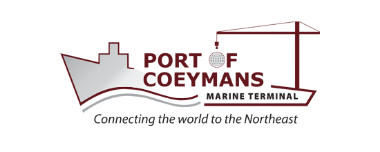 Port of Coeymans Marine Terminal
The Port of Coeymans is New York's premier industrial waterfront property. Our site is equipped to handle modularization of power plants and bridges, as well as small manufacturing. marine construction, aggregates, and disaster recovery projects. We are a privately-owned marine terminal where its owner and staff are dedicated to providing its customers with top-flight service from a prime location for all shipping, processing, warehousing and transportation needs.
Featuring a
450
Acre
Marine Terminal
A Heavy Lift
4,000
PSF
Dock
And also a
820
MT
Marine Travelift
Terminal Specifications
Located 100 miles north of New York City and 10 miles south of Albany
Employs more than 200 people
Open shop
Controlled access
2020 Experience Modification Rate (EMR)=.74
Has handled over twenty million net tons of cargo
Secure MARSEC facility
OSHA compliant
24-hour security
---
Dock Specifications
300' inlet channel
30' draft
Dock capability for ships up to 750'
United States Coast Guard approved terminal
Fresh water available
James E Curran & Co., Inc.
The Port of Coeymans is pleased to work with the James E Curran & Co., Inc. which assists with preplanning and supervising vessel cargo operation, U.S. Government regulation and formalities, vessel agency representation, documentation, networking, communications and customer service.
518-449-4713
Hudson River Pilots Association
Started in 1958, The Hudson River Pilots Association are both Federally and State Licensed Pilots, employed to safely and efficiently guide vessels to the ports along the Hudson River.
https://hudsonriverpilots.com/
718-815-4316 or 718-448-3900